District News
Viewing 1 - 20 of 20 stories
CCSD Honored for the "Best Communities for Music Education":

Chittenango is once again honored to be named a "Best Community for Music Education" by the NAMM Foundation. Recipients of this award must be able to show community and school support, as well as student involvement and musical achievement. Research into music education continues to demonstrate educational/cognitive and social skill benefits for children who make music. Everyday listening skills are stronger in musically-trained children than in those without music training. Significantly, listening skills are closely tied to the ability to: perceive speech in a noisy background, pay attention, and keep sounds in memory. Later in life, individuals who took music lessons as children show stronger neural processing of sound. Not to mention, social ...
Book Tasting:

Third grade students were treated to a "Book Tasting" in Bridgeport's library. Mrs. Cerio decorated the tables with fancy table clothes, had placemats and battery operated candles. Students had a stack of books to look through and read. These books were all new to the library and these students got to "taste" them before they decided if they wanted to sign them out. This was a unique experience and one loved by the students.
From States to the Worlds:

Micah Alpuerto and Nicholas Jenner competed in the "VEX IQ Northern NYS Championship" held at the MOST in Syracuse, NY. Schools from Syracuse, Rochester and the Niagara area were there to compete for the chance to go to "Worlds". Micah and Nicholas started off slow with an 11th place start in the "Team Competition" but with four other competitions left, they focused and with precision driving and excellent use of their controller they jumped into third place, which qualified them for finals. During finals competition, they competed with 7 other teams from around NYS. The atmosphere was tense and the pressure was high. They were one hub away from winning the "Team Competition", however, when it was all over they ended up taking ...
Second Graders become Authors!:

Miss Kleine's second grade class published a book! Students first decided on a topic and title, "Our Heroes." Then, students brainstormed their heroes and wrote their rough drafts. Finally, students completed their writing through an editing process and illustrated their pictures. Miss Kleine is so proud of her students' accomplishments!
The Robo Bear Squad:

The Robo Bear Squad opened up the 2019 season at the Bear Country Turning Point Tourney hosted by the team at the Chittenango Middle School. Over 30 teams from all over central New York arrived early on a Saturday to participate in the event which required student teams to design, build, and code robots to play a game. This year's game involves driving, flipping, shooting balls and ends with a battle for the top parking spot. The Robo Bears are led by Seniors Dylan Price, Ersilio Cerminaro, Devlin Cameron, Caleb Prenoveau and Ben Kingsley. The group's tandem of Baby Bot and Daddy Bot did not disappoint placing third in the qualifying rounds and advancing to the quarterfinals. All five Robo Bear Bots did well and will continue redesign and rebuilds for the next tournament. ...
Clear Path for Veterans:

The Bridgeport Peace Builders, a group of 21 fourth grade students, enjoyed a field trip to Clear Path for Veterans. The group made several hundred red poppy flowers to give to the veterans as a way to remember and honor their service to our country. The students learned that the red poppy has come to symbolize remembrance and honor and to celebrate those who have served our nation.
Bridgeport Book Buddies:

This program partnered a handful of first and second grade students with members of our community. Students were read to during their lunch break each Tuesday during October and November. It was truly a pleasure to witness, firsthand, the power of community/relationship building as the young and "young at heart" were brought together.
#otherpeoplematter:

The Chain Reaction Club (FOR Club) at the Middle School is hard at work getting the canvas bags ready for the Sullivan Food Cupboard. We have chosen #otherpeoplematter as the bag theme for this year to coincide with our Positivity Project. Many thanks to the Chittenango Teachers Association for donating the bags! Once the food drive is over, both Chain Reaction Club members and Student Council members bag up the donations for the food cupboard. Our hope is that families in our community feel the generosity and love from our school. The Chain Reaction Club will continue to work throughout the school year to support the communities in our area and spread the message of #otherpeoplematter.
Business Students Attend District 7 Fall FBLA Meeting:

New York State FBLA District 7 Fall Conference was held at the Herkimer County BOCES campus, Friday, November 9. Twenty-five Chittenango High School members attended along with over 70 other members throughout Madison, Oneida, and Herkimer counties. Several workshops were presented to the membership in attendance on topics such as "Resume Rescue and Interview Prep, " "Having Productive Conversations," "How Can PBL Support You in College," "Habits of Highly Effective Leaders" and "Applying and Deciding For College ". Students acquired valuable information that will allow them to grow and develop into better students and eventually better employees. Mary Beth Napolitano, Work Based Learning Coordinator at Herkimer ...
Bridgeport Elementary Welcomes the Bridgeport Fire Department:

On Wednesday, October 17 th , volunteers from the Bridgeport Fire Department shared fire safety tips with the students of Bridgeport Elementary. They discussed what to do in case of a fire, and also shared the tools and equipment that the fire department brings with them to an emergency. Students were even able to try on some of the equipment.
Bolivar Road Elementary Receives Tee-Shirts:

On Friday, October 26 the entire student body at Bolivar Road Elementary were given a tee-shirt compliments of the PTA and we were able to capture an entire student body picture from the rooftop. Throughout the school year scholars are asked to wear school colors for character education assemblies and school events. By providing a school spirit shirt to all scholars, the PTA hopes to make the search for school gear a little easier on families. Our student body photo will be used in our yearbook and also shared with our business sponsors who generously donated to our cause. It was great to see our scholars celebrating their shirts and getting together as a team!
Double Down Quiz Show:

On October 23rd, Matt Trease, Kailey Paul, and Ellie Knox competed in WCNY's Double Down TV quiz show. They dominated most of the game but lost a close one in the final round.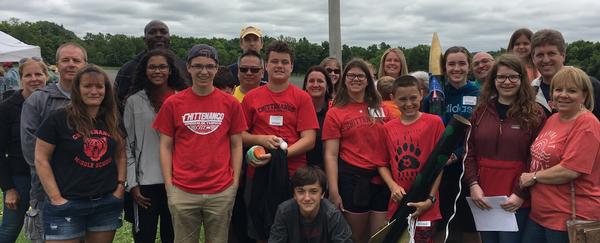 CMS Rockets Rock!:

Congratulations to the three CMS teams that participated in the CNY Rocket Challenge this past June. The teams built and painted the rockets, designed an Egg-stronaut compartment and predicted the highest altitude that their rockets would reach. The contest is sponsored, in part, by the MOST and the Syracuse Rocket Club and is free for the students to participate in. Nice work to all of the teams and a big thank you to all of the families for their support! Pictured: The 8th grade team (current freshmen) along with their families
Thank you Edward Jones!:

Marci Riddell from Edward Jones spearheaded a school supply drive within the Chittenango community that local businesses graciously participated in. We are so thankful for Marci, the local businesses that participated, and for the school supplies to help serve the children of Chittenango!
Butterflies in the Library at Bridgeport Elementary:

Mrs. Henry, a retired elementary school teacher, shared her knowledge and love for the Monarch Butterfly with many of the students at Bridgeport Elementary School. The children were so excited to be able to see the different stages of development as well as set some Monarchs free!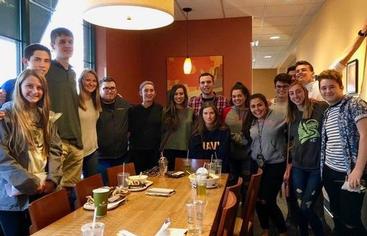 Spanish Honor Society Meet with Students from Tully:

On Wednesday June 6, 2018, members of the Chittenango High School Sociedad Honoraria Hispánica Capítulo Guernica met with members of the Tully High School Sociedad Honoraria Hispánica to share a meal and put their Spanish conversational skills to use. Students discussed their experiences in Spanish class, personal interests, opinions on social media and technology as well as future plans. They enjoyed the opportunity to practice in real life situations with a variety of partners as well as make new acquaintances. We hope to make this an annual event.
Bolivar Road Elementary Plants Trees:

On May 8th, the kindergarteners of Bolivar Road had the opportunity to plant trees! To go along with our plant unit, students were able to chose their roots, plant the trees in soil, and bring the trees home to be taken care of. Our many class discussions included what plants need in order to survive. A big thank you to Sorbello's for donating the soil and pots and Mr. Hohl for organizing this amazing activity!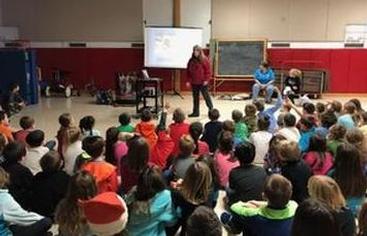 Wanderers's Rest and K.A.R.E. Visits Bridgeport and Bolivar:

During the 2017-2018 school year Bridgeport Elementary and Bolivar Road Elementary schools had a unique opportunity to host school-wide assemblies with Wanders' Rest and Kirkville Animal Rescue and Education, Inc. Representatives from both organizations educated our scholars on their work within the community, as well as showcased different animals. As a district, we look forward to this continued partnership.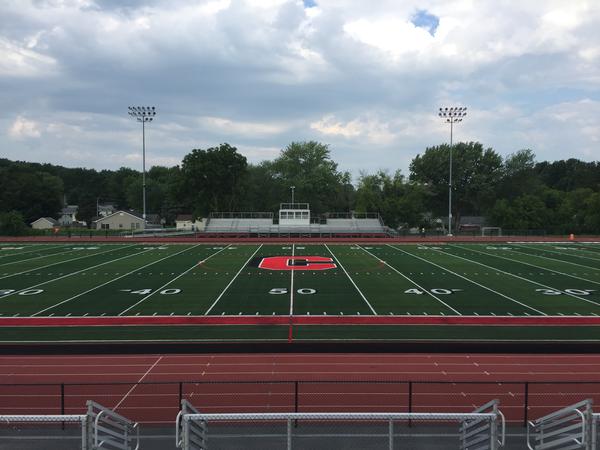 New Athletic Field:

We are excited to showcase our new athletic turf field and shot put area located at the Chittenango High School. This has been completed during Phase I of our current Capital Project. Student athletes have been enjoying their practices on the field. Please stop by and see the complex and be sure to notice the new graphics on and surrounding the field. The first competitions to be played on the turf will be: Varsity Football – August 30 th at 6:30 p.m. versus Camden Varsity Boys Soccer – September 4 th at 7:15 p.m. versus CBA JV Boys Football – September 6 th at 5:30 p.m. versus New Hartford Varsity Football – September 14 th at 6:30 p.m. versus Central Valley Varsity Girls Soccer – September 15 th at 11:00 a.m. versus West Hill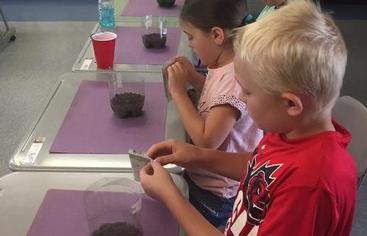 Cornell Comes to Bolivar!:

Cornell Cooperative Extension visited Mrs. Marko's class and Mrs. Biviano's class. During the visit they made terrariums with the scholars. In the terrariums they planted lettuce. The scholars enjoyed making their own terrariums and learning about how to take care of the terrariums. They also learned about what is grown locally. The scholars then brought the terrariums home to watch the lettuce grow!
Viewing 1 - 20 of 20 stories