District News
Viewing 1 - 9 of 9 stories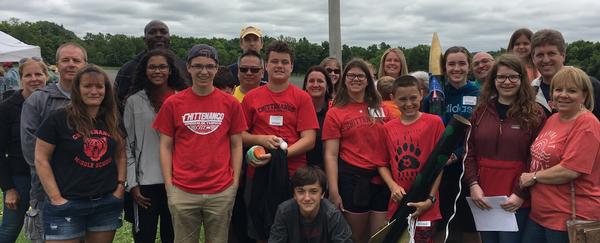 CMS Rockets Rock!:

Congratulations to the three CMS teams that participated in the CNY Rocket Challenge this past June. The teams built and painted the rockets, designed an Egg-stronaut compartment and predicted the highest altitude that their rockets would reach. The contest is sponsored, in part, by the MOST and the Syracuse Rocket Club and is free for the students to participate in. Nice work to all of the teams and a big thank you to all of the families for their support! Pictured: The 8th grade team (current freshmen) along with their families
Thank you Edward Jones!:

Marci Riddell from Edward Jones spearheaded a school supply drive within the Chittenango community that local businesses graciously participated in. We are so thankful for Marci, the local businesses that participated, and for the school supplies to help serve the children of Chittenango!
Butterflies in the Library at Bridgeport Elementary:

Mrs. Henry, a retired elementary school teacher, shared her knowledge and love for the Monarch Butterfly with many of the students at Bridgeport Elementary School. The children were so excited to be able to see the different stages of development as well as set some Monarchs free!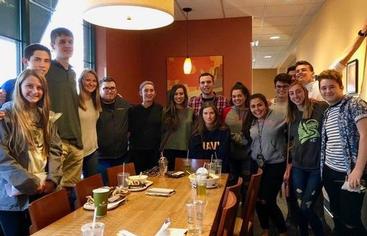 Spanish Honor Society Meet with Students from Tully:

On Wednesday June 6, 2018, members of the Chittenango High School Sociedad Honoraria Hispánica Capítulo Guernica met with members of the Tully High School Sociedad Honoraria Hispánica to share a meal and put their Spanish conversational skills to use. Students discussed their experiences in Spanish class, personal interests, opinions on social media and technology as well as future plans. They enjoyed the opportunity to practice in real life situations with a variety of partners as well as make new acquaintances. We hope to make this an annual event.
Bolivar Road Elementary Plants Trees:

On May 8th, the kindergarteners of Bolivar Road had the opportunity to plant trees! To go along with our plant unit, students were able to chose their roots, plant the trees in soil, and bring the trees home to be taken care of. Our many class discussions included what plants need in order to survive. A big thank you to Sorbello's for donating the soil and pots and Mr. Hohl for organizing this amazing activity!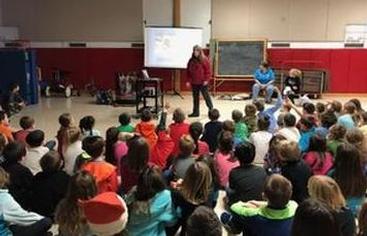 Wanderers's Rest and K.A.R.E. Visits Bridgeport and Bolivar:

During the 2017-2018 school year Bridgeport Elementary and Bolivar Road Elementary schools had a unique opportunity to host school-wide assemblies with Wanders' Rest and Kirkville Animal Rescue and Education, Inc. Representatives from both organizations educated our scholars on their work within the community, as well as showcased different animals. As a district, we look forward to this continued partnership.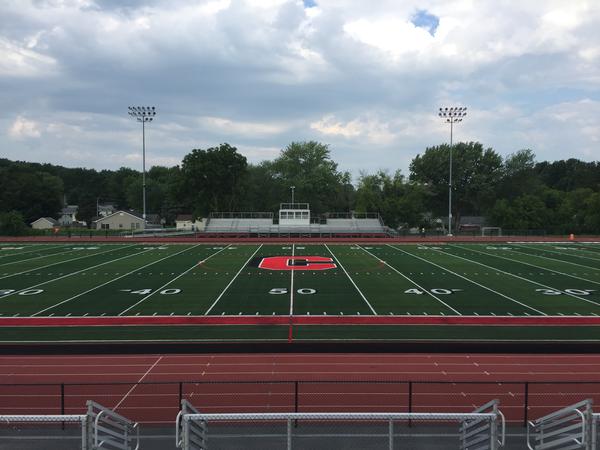 New Athletic Field:

We are excited to showcase our new athletic turf field and shot put area located at the Chittenango High School. This has been completed during Phase I of our current Capital Project. Student athletes have been enjoying their practices on the field. Please stop by and see the complex and be sure to notice the new graphics on and surrounding the field. The first competitions to be played on the turf will be: Varsity Football – August 30 th at 6:30 p.m. versus Camden Varsity Boys Soccer – September 4 th at 7:15 p.m. versus CBA JV Boys Football – September 6 th at 5:30 p.m. versus New Hartford Varsity Football – September 14 th at 6:30 p.m. versus Central Valley Varsity Girls Soccer – September 15 th at 11:00 a.m. versus West Hill
Dads - Take your Child to School Day!:

Mark your calendars! September 18, 2018 is Dads Take Your Child to School Day. We strongly encourage all dads and significant male figures to bring their scholar to school on this date. Actively involved fathers and significant male figures are a positive force in the lives of our children and our community. Dads Take Your Child to School Day is an event that promotes involvement by encouraging fathers and significant male caregivers of all kinds to take their scholar to school on this day. Bolivar Road Elementary has been selected by New York State as a kickoff site for this day! The District is looking forward to hosting such a profound and impactful event right here within the Chittenango community.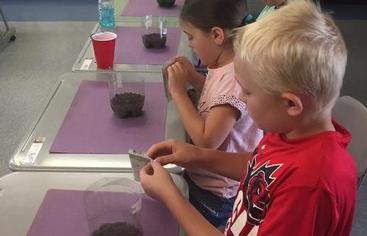 Cornell Comes to Bolivar!:

Cornell Cooperative Extension visited Mrs. Marko's class and Mrs. Biviano's class. During the visit they made terrariums with the scholars. In the terrariums they planted lettuce. The scholars enjoyed making their own terrariums and learning about how to take care of the terrariums. They also learned about what is grown locally. The scholars then brought the terrariums home to watch the lettuce grow!
Viewing 1 - 9 of 9 stories