From States to the Worlds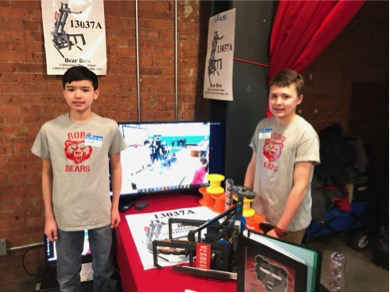 Micah Alpuerto and Nicholas Jenner competed in the "VEX IQ Northern NYS Championship" held at the MOST in Syracuse, NY. Schools from Syracuse, Rochester and the Niagara area were there to compete for the chance to go to "Worlds". Micah and Nicholas started off slow with an 11th place start in the "Team Competition" but with four other competitions left, they focused and with precision driving and excellent use of their controller they jumped into third place, which qualified them for finals. During finals competition, they competed with 7 other teams from around NYS. The atmosphere was tense and the pressure was high. They were one hub away from winning the "Team Competition", however, when it was all over they ended up taking third place in the "Team Competition", an unlucky break, but that didn't stop their hopes of going to "Worlds". They ended up winning first place in the "Design Award", which qualified them for the 2019 VEX Robotics World Championship in Louisville, KY.

Key criteria for the "Design Award" they produced:
• Engineering Notebook was a clear, complete, and organized document of the robot design process.
• Team demonstrated effective management of skills, time, and material resources
• Micah and Nicholas understood and explained how they developed an effective game strategy and robot design.
• They demonstrated teamwork and effective communication skills.

It was through hard work, teamwork, and perseverance that they brought home the victory and their chance to compete against other countries. If you see them in the halls be sure to congratulate them on a job well done!