District News
Next >> Viewing 1 - 20 of 59 stories
Chittenango Receives a Best Communities for Music Education Award:

Despite the pandemic, Chittenango Central School District was again honored by NAMM. This year, they changed the theme to "Support Music" as they recognized the importance of music programs during this trying year. Thank you to everyone who ensures this happens each year!
Chittenango Students Win National Scholastic Art Awards:

Senior Maggie Griffiths was awarded 3 Silver Keys for her digital art pieces, "Surfer", "Quiet Rainy Street" and "Distant Diner Daydream". Sophomore Taylor Streiff won a Gold Key with her photo, "Double Faceless". All entries were selected from thousands of regional Gold Keys from around the nation that advanced to the national level. Just 198 art entries were chosen nationwide. National winners can be viewed at www.artandwriting.org . On the regional level Chittenango students won a total of 26 awards; 8 Gold Keys, including the Newhouse Digital Design Scholarship awarded to Maggie Griffiths, 8 Silver Keys and 10 Honorable Mentions. The Central NY Region includes submissions from around 400 school ...
CMS 5/6 Band Long Tone Olympics:

Throughout the winter, the 5 th and 6 th Grade in-person wind and brass students competed in the "Long Tone Olympics." Each week students were given the chance to play a single note for as long as they could. Their attempts were timed on a stopwatch and recorded in a database. What seemed like a very easy task quickly became more challenging as each week the times continued to get longer and longer. Students worked on various techniques such as deep breathing, playing softly and using correct posture. As times started to go beyond 30 seconds, the Long Tone Olympics became a test not only of lung capacity and breath control, but also of mental toughness! The 2021 Long Tones Olympics Medalists are: 5 th Grade: Gold – Jack Sylstra ...
2021 All-Eastern Honor Ensembles:

Congratulations to Alyssa Bonfardici (Treble Choir), Maggie Griffiths (Orchestra) and Alainna Pack (Band) who were selected to be among 719 of the finest high school musicians from Connecticut, Delaware, Massachusetts, Maryland, Maine, New Hampshire, New Jersey, New York, Pennsylvania, Rhode Island and Vermont for their acceptance into the NAfME 2021 All-Eastern Honor Ensembles! These 3 outstanding musicians were selected from 1150 All-State applicants and ranked by their state presidents to fill the ensembles. The students will be participating in a "Virtual Weekend" experience March 4-6, 2021 that will include keynote speakers, master classes with professional musicians, rehearsals with their conductors as well as opportunities to learn and network with colleges and universities ...
Drone Technology Course:

The first group of students to complete the new Drone Technology course taught by Mrs. Carpenter at Chittenango High School wrapped up the semester with an exciting trip to the 174th Attack Wing located in Syracuse. After completing course studies in general regulations, airspace, weather and aerodynamic principles, students are now prepared to tackle the FAA Part 107 exam, which will certify them to be Remote Pilots in Command. During the semester, students also worked on piloting skills flying a range of drones including the Mavic Mini, Phantom 3, Syma x5C and the newest addition the FPV Tinyhawks. Drone-based projects provided students the chance to learn how to 3D print parts, edit photos and videos and develop business logos and plans. Whether students choose ...
CMS Chain Reaction Club:

Great things are happening at CMS! The Chain Reaction Club has been busy! At their last meeting, they had a special guest, Jeff Pitt, from Sleep in Heavenly Peace. Sleep in Heavenly Peace is an organization that builds beds for children who don't have beds. Last year, the CMS Chain Reaction Club held a huge fundraiser for SIHP and was able to present Mr. Pitt with a check for $1,030.00. He was overjoyed and impressed with the donation. The donation will be used to provide the lumber and bedding needed to build the beds. In January, the CRC created a "Friday Love" video for the staff at CMS thanking them for everything they do! We are all so appreciative of our CMS family. In addition to the video, CRC is getting all CMS involved in ...
Chittenango Holiday Cheer:

The High School Select Choir Presents "O Holy Night" The Middle School 6/7 Orchestra Presents "'Twas the Week Before Christmas" Bridgeport Elementary Presents "Holiday Magic Slideshow"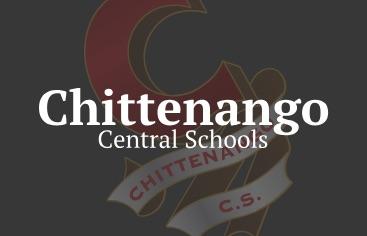 Five Seniors Recognized as College Board National Recognition Program Scholars:

Last Spring, our school was notified that the College Board National Recognition Program was going to be available to our students. Students are required to score in the top 2.5% of test takers and identify with attending a small school or coming from a small town. We are pleased to announce that five Seniors have been recognized as College Board National Recognition Program Scholars. Congratulations to our Seniors!
Bolivar Bears Walk Across America:

The Bolivar Bears are working together to walk their way across America! Bolivar has set up three tracks that the students are able to walk around during recess. Students walk the track and each lap represents a unit of distance in a journey from a starting point to a specific destination, which is marked on a map that each teacher has in their classroom. When students reach the destination, they are able to do a fun activity in the classroom regarding where they "went." For some of our destinations in the future, the special area teachers will do a themed lesson to celebrate. So far, Bolivar students together have walked over 400 miles! They have made it to the Statue of Liberty and the Washington Monument. Our next stop…Disney World! When we work together we can do amazing ...
Fifth Grade Virtual Field Trip to the NYS Fair!:

Fifth grade students in Mrs. Cashman, Mrs. Crayton and Mrs. Emerson's classes participated in a virtual field trip to the New York State Fair! While on their "field trip" students took a virtual tour of the popular spots to visit while at the fair. They also learned about the history of the butter sculptures found in the dairy building and even created their own sculptures out of Play-Doh!
Three Students Named National Merit Commended Students:

Chittenango High School is excited to announce that three students have been named as Commended Students in the 2021 National Merit Scholarship Program. Seniors, Brooke Cullen, Maggie Griffiths and Alainna Pack have been designated Commended Students by achieving a PSAT/NMSQT score in the top 3% on the PSAT, administered in October 2019. This performance is exceptional as only 50,000 students out of more than 1.5 million are chosen to be commended students. "Those being named Commended Students have demonstrated outstanding potential for academic success," quotes a NMSC spokesperson. "We hope that this recognition will help broaden their educational opportunities and encourage them as they continue their pursuit of academic success." Mr. Fersch, High ...
Six Students Selected for NYSSMA:

Congratulations to six Chittenango High School students for being selected as participants for the 2020 New York State School Music Association (NYSSMA) All-State Performing Ensemble(s). This is the highest musical honor which can be bestowed upon a high school musician and we are thrilled to recognize the following students with this honor: Piper Beckwith (Violin) Symphony Orchestra Alyssa Bonfardeci (Alto 1) Treble Chorus Maggie Griffiths (Cello) String Orchestra Abigail MacAlpine (Soprano 1) Mixed Chorus Alainna Pack (Bb Clarinet) Symphony Orchestra Anna Rooney (Violin) String Orchestra Though the live December Winter Conference will not be held due to COVID-19 concerns, NYSSMA does plan to assemble the All-State ensembles in a virtual format ...
Drone Technology Course Arrives at Chittenango High School:

There is a "buzz" in the air at Chittenango High School this fall as students embark on a new learning adventure in the inaugural semester of Drone Technology. Thanks in part to a grant from the New York State Agricultural Education Association, CHS was able to team with SkyOp LLC and offer students this exciting challenge. Based out of the newly opened STEAM center, the course will be taught by Mrs. Carpenter who went through 24 hours of drone technology training as well as 8 hours of hands-on flying at SkyOp this summer. Students will be utilizing state of the art equipment in a hybrid in-school/virtual model for this semester-long class. Over the course of the semester students will spend time learning the content necessary to become certified commercial ...
Senior Athlete Sportlight:

Athletics are a key component of the educational career of many students. Not only do they keep students physically active and lead them to a lifetime of health and wellbeing, but they teach many of the 21st-century skills that all workplaces desire. In athletics, students learn how to work well with others, become leaders when they didn't know they could, and communicate effectively in high-stress environments. As our students can not currently take part in these activities, the district would like to highlight the work of our departing seniors. You will be able to see these highlights on the district's athletics page and the athletics twitter feed @BearCountryAD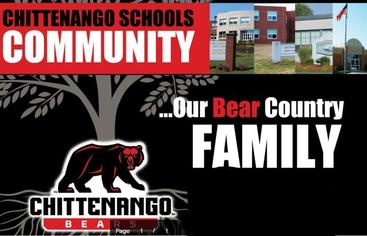 Care for our Bear Country Family:

Many of our Bear Country Family members are experiencing the loss of a job, challenging financial times, difficulty in providing basic essential groceries and lack of high-speed internet for their student(s) to interface with teachers. With the support of a character education partner, Wisdom Thinkers, Mr. Eiffe applied for and was granted donated funding to help support Chittenango Schools students, families and community residents! To enhance this grant funding, the faculty and staff of the Chittenango Central School District are also personally pitching in to support Bear Country residents in these unprecedented times ...because Bears are loyal and stick together! Through this donated funding, the District is coordinating support for those who need assistance ...
#2BaBear Show us your Bear Paw:

Supporting one another, together; The Chittenango Central School District invites you to show us what it means... Click the link to access the #2BaBear flyer .
Next >> Viewing 1 - 20 of 59 stories