District News
Next >> Viewing 1 - 20 of 92 stories
Congratulations to Hannah Eddy!:

Hannah Eddy, daughter of Carrie and Timothy Eddy and a senior at Chittenango High School, earned the highest possible ACT composite score of 36. About one-quarter of 1% of students who take the ACT earn a top score. In the U.S. high school graduating class of 2022, only 3,376 out of 1.34 million students who took the ACT earned a top composite score of 36. The ACT consists of tests in English, mathematics, reading, and science, each scored on a scale of 1–36. A student's composite score is the average of the four test scores. The score for ACT's optional writing test is reported separately and is not included within the ACT composite score. "Earning a top score on the ACT is a remarkable achievement," said ACT CEO Janet Godwin. "A ...
Chittenango's 9/11 Remembrance Ceremony:

On September 11, the choir was again honored to sing for the Village of Chittenango's 9/11 remembrance ceremony. The event was filled with strong emotions and beautiful music performed by the choir!
The Chittenango High School Select Choir Hits the Ground Running!:

On September 2, 2023, the choir was honored to be a finalist to sing at the St. Joseph's Amphitheater ahead of the Loverboy and Foreigner concert. The group sang a medley of classic rock songs to an audience of about 17,000. Their energy and enthusiasm helped them WIN the competition against the students from Central Square, who also put on a great show! The students had a blast singing in this space and were rewarded with a new Bose PA System!
Students Honored with "Tools for Success" Awards:

To qualify for a "Tools for Success" award, students must demonstrate proficient skills within their program, have good classroom attendance and participation, and show a consistently positive attitude in class. Two of our students that were honored in the following: Preston Tedford in Culinary (not pictured) and Robert Kimball in Welding (shown below) What an achievement! Congratulations! To read the entire story, please click here .
First in Math State Champs:

On March 30th, three members of the 1st grade enrichment math group competed in a regional qualifier for the New York State Math Championships. Brayden Calabro, Wilson Cary and John Enders won the regional competition on that day, and were invited to compete at the University of Albany on May 20th for the state championship. Wilson, Brayden and John won the state championship with an impressive showing of teamwork, dedication, focus and amazing number sense!! We are so proud of our little Bears! Way to go, boys!
Chittenango High School Seniors Earn NYS Seal of Biliteracy:

On April 21, 2023, seven seniors from Chittenango High School successfully presented their projects to earn the NYS Seal of Biliteracy at Onondaga Community College. The New York State Seal of Biliteracy (NYSSB) acknowledges the importance of being bilingual in today's global society. It highlights the hard work and achievement of students demonstrating a high literacy level in more than one language. The NYSSB encourages the study of languages, affirms the value of diversity in a multilingual society, and gives students opportunities, including a competitive advantage in the workforce and a better understanding of other cultures. Students earn the Seal of Biliteracy by earning points in ELA and a world language. Points can be earned in many ways, including coursework, ...
CHS is proud to offer The Den Thrift Shoppe!:

Chittenango High School is proud to offer The Den Thrift Shoppe. Our first anniversary is April 22nd! The Den provides FREE items to all high school students, including new and gently used clothing, shoes, outdoor wear, hygiene products, non-perishable food items, and items that can be shared with family members! Please encourage your student to stop by and check it out. We are open Monday and Wednesday during the 10th period and by appointment.
CHS Presents Disney's The Little Mermaid:

Beautiful mermaid Ariel (Bella Lincoln, Alea Morris) is a passionate, headstrong teenager and wants what she cannot have -- to live on land. When she falls in love with the handsome human Prince Eric (Aiden Grenier), Ariel is more determined than ever to gain a pair of legs. But her only option is to defy her furious father, King Triton (Brandon Grenier), to bargain with Ursula the Sea Witch (Lillian Baker, Miranda Danaher), giving up her voice as payment for a human transformation. With the help of Flounder (Elijah Hoover), Scuttle the seagull (Will MacAlpine, Parker Schmidt), and officious court composer Sebastian the crab (Keagan Terry), Ariel must wordlessly gain the Prince's love within three days -- or lose her soul to the ambitious witch! The show also stars Thomas Torosian ...
Miss Rudd's classroom donates to Wanderers' Rest:

Miss Rudd's fourth-grade classroom at Bolivar Road elementary collected a large donation for the animals at Wanderers' Rest! Before Christmas, students helped deliver food, toys, bedding, and cleaning supplies to the local animal shelter.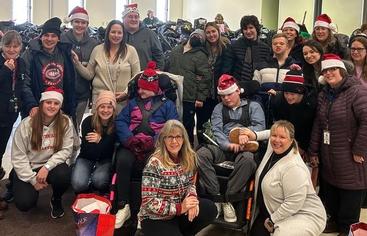 Annual Giving Tree:

Yesterday the exceptional learners visited St. Francis Church in Bridgeport to help with their annual Giving Tree. It was such an incredible day! Our students helped to organize gifts for families and even received a gift themselves! Thank you so much to Karin Spencer and Karen Clark for organizing this fantastic day!
Bolivar Bears Visit The Grand:

Bolivar Road Elementary has been using Sunshine Day to learn and experience new things. We also are using Sunshine Day to spread kindness! Students at Bolivar Road created a Christmas Tree and ornaments! A few representatives delivered cards and the Christmas tree to The Grand! The Grand will hang the tree in their activities room for all the residents to enjoy! We are excited to continue our relationship with The Grand!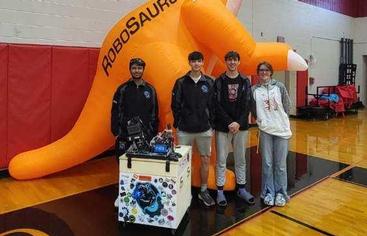 Congratulations to Bear Robotics!:

Over the weekend on Saturday, December 3, 2022, three of our robotics teams placed in the top 10. The Bears brought the Excellence Award, Robot Skills Championship, and Tourney Championship all home! What a great accomplishment. GO BEARS!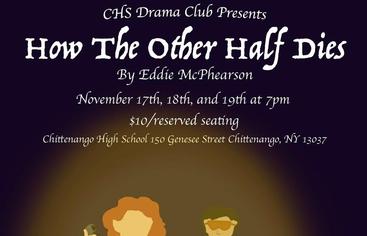 Chittenango High School Drama Club presents "How the Other Half Dies":

The Chittenango High School Drama Club is proud to present the comedy "How the Other Half Dies" by Eddie MacPherson on November 17, 18, and 19, 2022, at 7 pm. This play centers on the socialite Sybil Chasteen (Lillian Baker), who needs to host a party to impress the well-to-do Harriet Hammer (Kassaundra LaMay), so she will accept her into her prestigious country club. Much to Sybil's dismay, she discovered a dead body in the trunk of her new car! Naturally, she brings it into the house. Two detectives are called to her residence (Brandon Grenier as Officer Knight and Keagan Terry as Officer Newbie) to help solve the crime. With the help of her best friends April May (Amélie Rohlin), Cora (Madalyn Douglas), and Fannie (Allison Batoszek), she begins preparation ...
Book Buddies are Back!!:

We are so excited to bring back Book Buddies! Last year, we wanted to get second graders reading more and Pre-K students exposed to more types of readers! Book buddies were born!! Natalie Stansbury, UPK teacher at Bolivar Road Elementary, and Courtney Aversano, Second Grade Teacher at Bolivar Road Elementary, set up a time in their schedule for their classes to get together once a week. We spent most of the time reading books together, but we did many other activities too! We were able to enjoy a musical concert pre-k students put on with their instruments, we participated in Challenge Island together, and we even did an end-of-the-year celebration together! Book buddies are great for getting kids to read, but they all get much more out of it. Our young students had older students to look ...
National Merit® Scholarship Program Award Recipient:

Elizabeth Kimball has been named a Commended Student in the 2023 National Merit® Scholarship Program. She is recognized for the exceptional academic promise demonstrated by her outstanding performance on the 2021 Preliminary SAT/National Merit Qualifying Test (PSAT/NMSQT®). More than two-thirds (about 34,000) of the approximately 50,000 high scorers on the PSAT/NMSQT receive letters of commendation in recognition of their excellent achievement on the exam. Commended Students score in the top 3-4% of the 1.5 million students that took the test. Congratulations to Elizabeth!
Chittenango Student-Athlete Community Service Day:

On Saturday, August 27th, Student-Athletes from the girls and boys, JV, and Varsity fall sports teams, volunteered throughout the community. The Town of Sullivan Community Parks and Recreation, Chittenango Landing and Canal Boat Museum, Sullivan Free Library, All Things Oz Museum, Creek Walk, Lions Botanical Park, and The North Pole all welcomed help from the various teams. Many weeds were pulled, trees mulched, grass mowed, cobwebs cleared, and signs, picnic tables, and benches throughout the town sparkled by the end of the day! This annual event is an excellent opportunity for the athletes to give back to our community. They feel a sense of accomplishment and pride for completing tasks, enjoy the opportunity to connect with community members, and bond with their teammates! Go BEARS! ...
Congratulations to Alea Morris!:

Alea Morris, daughter of Amy Morris, has been selected as an alternate in the New York State School Music Association Winter All-State. Alea is a senior vocalist who was also chosen to be an alternate last year, alongside fellow senior Miranda Danaher. If selected, Alea will sing in a choir with some of the top voices in New York State during a three-day conference in Rochester, NY. Congratulations Alea!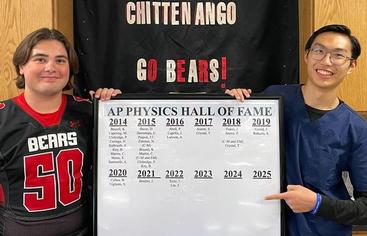 Congratulations to our AP Physics Newest Hall of Fame Members!:

On September 23rd, Jacob Ezzo and Joseph Lin officially got inducted into the AP Physics Hall of Fame. At Chittenango, graduates who enter the Hall have gone on to study at various schools and now work in an array of careers all over the country! Jacob and Joseph will be joining this group. Congratulations to both on this accomplishment, and we wish them well as they wrap up their senior year in Bear Country. Entrance into the Hall is achieved only by scoring a five on the challenging AP Physics 1 test administered in May each year. On the test, students must demonstrate an in-depth understanding of topics including Kinematics, Dynamics, Torque and Rotation, Gravitation, and Simple Harmonic Motion. The examination requires students to solve problems, write a paragraph and design a laboratory ...
Next >> Viewing 1 - 20 of 92 stories